Off-page SEO is a topic related not only to building high quality links from external websites but also uncovering outreach strategies of competitors and preventing potential harm from negative SEO campaigns. These are all activities that cannot be implemented directly in the site administration and always need either access to third party tools (e.g. Google Search Console for disavow or SEMrush for backlink analysis) or cooperation with third party vendors.
Similarly to on-page, there are also hundreds of ranking factors related to backlinks. Below are some of the most important ones that are generally accepted within the SEO community.
Important off-page SEO factors
Anchor text
A crucial part of every high quality backlink is a relevant anchor text containing a targeted keyword that the page is trying to rank for. In general, an anchor text is a line of words which serves as a base for the link. It is important to maintain the natural balance between branded and non-branded texts so that the backlink profile does not start looking artificial.
Even links having no anchor texts (labeled by SEMrush as "empty anchor") are a natural part of a healthy backlink profile, however that should not be the majority of the cases.
Number of referring domains
The total number of backlinks also determines the potential of the backlink profile. The count of unique domains is usually a more reliable metric than the number of single backlinks, however what matters the most is the ratio between those two. The closer the ratio is to one, the more likely it is the case of a high quality link portfolio.
TrustFlow vs. CitationFlow
Besides the domains vs. backlinks ratio, the TrustFlow and CitationFlow is another way of determining the quality of the link profile. Trust Flow indicates the quality of links and Citation Flow indicates their quantity. The principle is therefore similar to the previous ratio, however the two later metrics are a part of the Majestic tooling and therefore prone to internal algorithm changes, whereas the number of backlinks and links are a simple database output.
Distribution of linking ccTLDs
The distribution of the ccTLDs, i.e. domain suffixes, is another indicator of backlink quality. When selecting potential linkbuilding partners, checking what ccTLD is the source of most backlinks is therefore important. It is often the case that many of the linking domains are irrelevant, some even from a completely different language type, therefore unlikely adding any additional value and potentially meaningless to the reader, and thus the crawler as well.
Topical relevance
A link from a topically relevant website usually has significantly more value than from a generic news magazine. For example, a site about pet food might rather have a backlink from animal related domain than a gaming blog.
Domain authority
Domain authority is a concept originally created by Moz indicating how likely a domain is to appear high in the search. Similarly to TropicalFlow and CitationFlow, the metric is entirely influenced by the internal Moz algorithm. Therefore, it is recommended to take this metric primarily as a quality indicator rather than a source of SEO truth.
Web traffic and trend over time
Even though the traffic itself does not seem to be a ranking factor, it is certainly a quality determinant in terms of choosing linkbuilding partners. The traffic shows how popular a website is, if there is any click potential from the article and if the site has been hit with any Google penalization. The trend is also important for assessing future performance of the site, as little traffic might not necessarily mean low quality website. If all of the other metrics look good and the traffic has been increasing over time, it might be a domain to go for.
Social signals
Even though links from social media sites are usually no-follow and thus do not pass any SEO value, they are very useful for building brand awareness, site credibility and conquering as much of the SERP real estate as possible.
Challenges of linkbuilding
Compared to on-page activities, off-page SEO is usually more demanding not only in terms of coordination and performance evaluation, but also in terms of money and time resources.
Time - Communicating with potential referring domains, analysing their link profiles, writing the content itself and ensuring that the article gets published in time usually requires a lot of time and effort, unlike on-page.
Budget - To save some time, it is also possible to cooperate with outreach agencies which already have a robust database of partners. However, such services are very quite costly and it is also important to closely monitor the quality of the delivered outputs on a continuous basis.
Performance evaluation - Many times, a new backlink was not the only SEO adjustment in the given period and attributing a performance increase to a single outreach campaign or on-page optimization might be very tricky.

In the meantime, there might have been many changes that might have affected the performance, such as organic backlinks without contract, negative SEO campaigns from competitors, on-page optimizations and technical changes from other departments and most importantly the neverending Google algorithm updates.
Even though estimating the impact of off-page activities on SEO performance can be very challenging, building backlinks clearly works and Google still treats them as valuable ranking factors. Therefore, it is a good idea to include linkbuilding in the overall strategy as one of the three basic pillars of search engine optimization.
I'd be happy to chat about anything regarding SEO and the latest Google updates. Feel free to get in touch with me via email martin@benes.me or connect with me on Linkedin.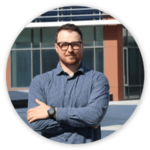 I am currently working as Technical SEO Manager for Zalando in Berlin. Previously living in Malta and working in the iGaming sector as SEO Manager. My journey began as SEO Specialist in Prague in the digital agency environment. At the moment, I am finishing my master's thesis about synergies between SEO and PPC and how to maximize the traffic using both channels in the overall strategy.
© 2023 - Martin Benes SEO