Quality tools are an integral part of SEO and oftentimes it is necessary to use a variety of tools in order to be able to optimize effectively. In general the SEO software can be split into four groups according to the main functions.
Analytics for internal data
The first and crucial group of tools not only of the SEO field but also of the overall online marketing industry is the internal analytics. These tools provide insight into the true picture of website performance across various channels.
Google Search Console
Originally Webmaster Tools, now the Search Console, is a basic tool for monitoring not only the site performance and appearance in SERP, but also for uploading a sitemap.xml, test crawler rules in robots.txt, set up site geolocation, or detect web indexing errors. Important metrics that can be read in GSC are, for example, organic non-brand clicks or site impressions.
Google Analytics
An equally important tool for SEO is Google Analytics, which also provides many insights into user data. For example, metrics such as organic traffic, time spent on a page, bounce rate, or page scrolling rate are relevant to SEO.
However, due to the latest development of GDPR, it is necessary to take the measured data in GA with a reserve. Not all users agree to share their cookies and it is therefore possible that the resulting data will be distorted.
Google Trends
An interesting tool that provides information on new trends, the most searched queries in a given language / country or also a comparison of search queries of user queries on a scale from 1 to 100. This tool is especially useful for tracking trends, seasonality or current topics.
Google Keyword Planner
With this tool, we are gradually entering the field of keyword analysis. Google Keyword Planner is especially useful for getting searches and prioritizing SEO activities. In contrast to the specialized tools in the following section, the Keyword Planner indicates searches in a relatively wide interval format, and thus serves primarily to collect raw data at the beginning of the analysis.
Complex tools for measuring ranking positions
The second group are tools for measuring positions, word search, competition and benchmarking in general in the industry. With Google officially discontinuing keyword-level search and traffic, you need to reach for one of the specialized solutions.
SEMrush
Probably one of the best rated tools is SEMrush, which offers many functions not only in the field of position measurement, but also in the reference portfolio or technical solutions. The main strength of this tool lies in the robustness of the database and in the offer of a wide range of geolocation settings of the search engine. So it's possible to see keyword demand in almost any country.
Ahrefs
Another of a number of comprehensive tools for measuring not only positions and searches is Ahrefs. In addition to optimized UX, the advantage of this tool is also an extensive index of backlinks and its regular updating.
Moz
Moz is known in the SEO community mainly thanks to its founder Rand Fishkin, who for many years shot educational videos Whiteboard Friday covering a whole range of useful tips. As for the tool itself, it is worth mentioning, for example, Moz Local, which is especially suitable for local SEO.
Specialized tools for linkbuilding
The third group includes tools for measuring performance and managing linkbuilding campaigns. These tools provide data on external websites, the quality of their link profile and the potential for possible collaboration.
Majestic
If off-page experts had to choose one tool for analyzing link profiles and planning link building activities, it would be Majestic. Thanks to a very robust database of backlinks, the tool is able to find even the most hidden links. Majestic is also the creator of Trust Flow and Citation Flow metrics, which are useful for determining the potential of off-page campaigns.
Broken Link Checker
With the help of this tool, it is possible to identify broken links and their exact location in HTML. These features also exist in the form of various plugins for Internet browsers.
Linkody
Another interesting tool is Linkody, which provides, for example, the ability to track new or lost backlinks, but also the so-called spam score, which shows the potential toxicity of individual links.
Search engine bot simulators
The fourth and final section is search engine simulators and data mining tools. Thanks to these functions, it is possible to detect internal linking, inappropriate metadata filling, obstacles for indexing pages, generating a sitemap or links to broken pages.
Screaming Frog
By far the most used tool in this section is Screaming Frog, which works locally (not in the browser). With the help of Screaming Frog, it is possible to simulate browsing the web with Googlebot on desktops and mobile devices. This tool provides a variety of features and useful settings and is definitely a must-have for any experienced and novice SEO specialist.
Deepdrawl
Deepcrawl is a solution for more robust websites with many millions of pages, images and internal links, such as global newspaper portals or e-commerce projects. The target groups are also matched by the price, which is based on the number of URLs compared to the flat rate of the previous tool.
OnCrawl
The OnCrawl platform is another in a series of technical SEO tools for large websites. OnCrawl also includes a Log Analyzer, thanks to which it is possible to precisely determine the path of Googlebot and find out whether its behavior is desirable or whether, for example, it is necessary to optimize internal links and guide the crawler through other sites.
I'd be happy to chat about anything regarding SEO and the latest Google updates. Feel free to get in touch with me via email martin@benes.me or connect with me on Linkedin.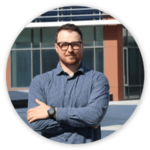 I am currently working as Technical SEO Manager for Zalando in Berlin. Previously living in Malta and working in the iGaming sector as SEO Manager. My journey began as SEO Specialist in Prague in the digital agency environment. At the moment, I am finishing my master's thesis about synergies between SEO and PPC and how to maximize the traffic using both channels in the overall strategy.
© 2023 - Martin Benes SEO